The analog system that inspired productivity.
Aka, the bullet journal. 
This popular system was founded by
Ryder Carrol
, to inspire creativity and organization. The journal itself can be used for many things, but popular choices include anything from scheduling, budgeting, sketching, and so much more. 
If you've already started a #BUJO, then you know how helpful categorized lists can be. And if you're a bullet journal beginner, here are some awesome ideas to get you started: 
To do: 
This category focuses on anything you'd like to accomplish in the future. This is a great starting point if you are new to the bujo world. 
Things to learn
Books to Read
Places to travel to
Movies to watch
Restaraunts to try
Bucket List
People to meet
Goals
Try brainstorming your big life goals, and then split them down into yearly, monthly, and daily goals. This helps create an action plan for turning dreams into reality.
Daily 
Weekly 
Monthly 
Yearly 
Life 
Self-Growth 
For those that are really looking to make big improvements in the area of self, there are many personal development trackers that can help. Record your greatest milestones or write out what your grateful for.
Personal Milestones
Positive Affirmations 
Grattitude list 
Daily Intentions 
Happy Memories
Motivational quotes
Mistakes that you have learned from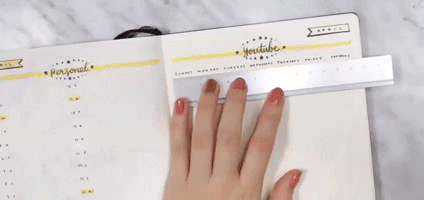 Health:
Using a bullet journal to track fitness goals is a popular practice as well. Here are some ideas to keep you healthy.
Workout plans
Challenges to try
Meal prep list
Calorie tracker
Daily food log
Weightloss tracker
Fitness goals 
Favorite workouts
Mood tracker
Daily water log
Daily exercise log 
Finance
The great thing about the bujo system is that you can plan, track, and organize anything you want.  Budgeting and finances are great list ideas. They can help you keep track of expenses and even help you save!
Daily expenses 
Monthly bills
Monthly budget
Savings tracker
Debt tracker 
Utilities tracker
Lifestyle
Your everyday life is just as important as anything else. In this category, write down anything that feels... well, you.
Morning routine
Evening routine
Best moments in life
Favorite foods & drinks
Favorite books & movies
Lastly, let your creativity go. You can personalize, customize, and decorate your journal however you want. In the end, it's your journal, so write down whatever brings you joy, happiness, and productivity. 
Like the post? Comment below what you think, and let us know if you have any other awesome list ideas!
 [author bio="22 year old planning guru & bullet journal addict writing to help people find peace of mind, productivity, and functionality through creative planning." image="https://cdn.shopify.com/s/files/1/0015/4117/7407/files/F17B945E-E5D3-4693-A28E-DE428138F892.jpg" email="roselle.caballes@drrozl.com" pinterest="http://pinterest.com/dr_rozl_supply/" instagram="https://www.instagram.com/drrozl.supply/"]